Leonard S. Anderson
March 10, 1895 - December 28, 1962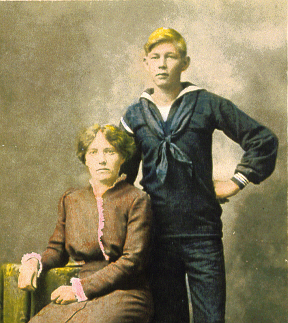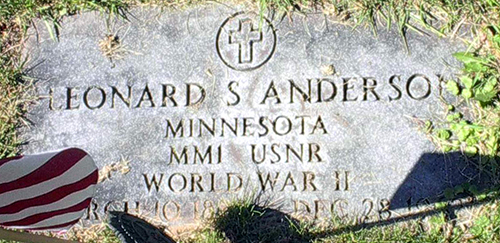 After the bombing of Pearl Harbor on Dec. 7, 1941, Leonard took a job with the Panama Engineer District as a bulldozer operator with a salary of $1.48/hour. He stayed in Panama for about four months before returning home, in May of 1942. He returned to his old job for three months and then took a job in Greenland with a construction crew. Leonard was aboard the U.S.A.T. (U.S. Army Transport) Chatham, part of the American convoy SG-6F that was sailing from Sydney, Nova Scotia, to Greenland. In the early dawn of August 27, 1942, in the Belle Isle Strait, off Newfoundland, the Chatham was torpedoed by the German submarine U-517. The Chatham was the first American troop transport to be destroyed in World War II. Although the ship sank within an hour of the attack, there were only 14 deaths. An amazingly small number considering the ship carried a compliment of 562 crew members and passengers. Leonard soon continued on to Greenland and completed his job. He returned home and landed in Boston on Dec. 11, 1942, aboard the U.S. Fairfax.
Despite the fact that it was a bright and clear moonlit night, the attack on the Chatham was done in such a manner that no one ever saw the sub. Convoy SG-6F consisted of five ships and two escort ships; the U.S. Coast Guard cutters Algonquin and Mohawk. These ships were poorly equipped and the officers and crew had little training in regard to how to engage and hunt U-boats.
On June 12, 1943, Leonard enlisted in the Naval Reserve with the Sea Bees as a Fireman 1st class. He attended the Naval Construction Training Center at Camp Peary, Williamsburg, Va., taking the course for Machinists Mate. He served with the 105th Naval Construction Battalion on New Guinea and in the Philippines. During the Leyte landing in the Philippines in October 1944, he sustained severe injuries when two 500-pound bombs exploded. He was sent stateside to the Naval Hospital at Great Lakes, Ill. Complications, in the form of a blood clot in the coronary artery, led to an Honorable Discharge as a Machinists Mate 1st class on May 26, 1945, at Great Lakes, Illinois. His pay at time of discharge was $114.00/month. Leonard was granted a lifetime disability pension; thus ending his service to the military. He had escaped death three times in three different capacities and in three different places; all in defense of his country.
No further information available.