Walter Cook
December 22, 1911 - July 18, 1960
Source: Muster Roll - December 19, 1944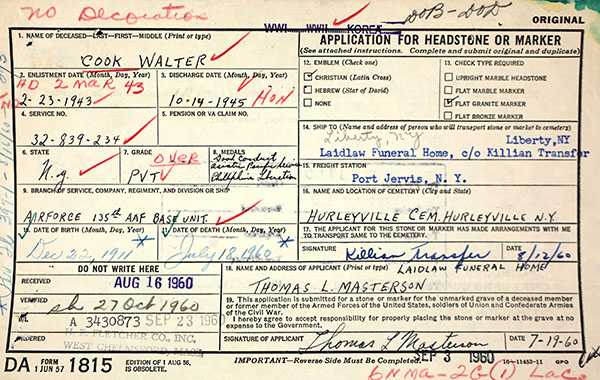 Monticello - Walter Cook, a lifetime resident of South Fallsburg, died yesterday in Monticello. He as 48.
Mr. Cook was born Dec. 22, 1911 in South Fallsburg, the son of Manning and Emma Cook. He was a carpenter.
He was married Dec. 24, 1935 to Margaret Hallenbeck. He was a member of Carpenter's Union Local No. 729 of Liberty.
Survivors are his wife, Margaret; one son, Walter Cook, Jr., of Monticello; one daughter, Mary Gibson of Monticello; his mother, Emma Cook of Woodbourne; three brothers, Chauncey and Nelson Cook of Woodbourne, and Ernest Cook of South Fallsburg, and several nieces and nephews.