Walter DeBord
July 4, 1914 - May 2, 1945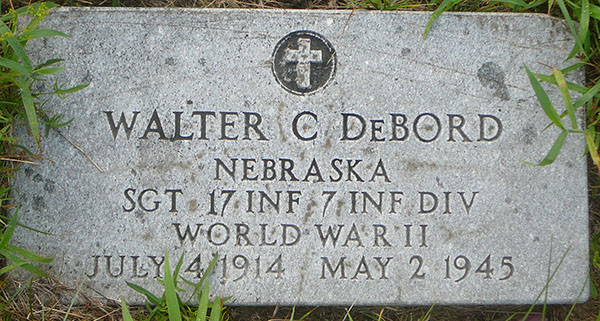 Sgt. Walter DeBord, only son of Mr. and Mrs. E. L. DeBord, was killed in action on Okinawa May 2, according to a telegram received from the War Department Monday. Sgt. DeBord was wounded in action on Leyte October 24, 1944, and received treatment on a hospital ship for leg injury at that time. Surviving are his parents and one sister, Mrs. Averill Basham.
Full Military Service was held for Sergeant Walter DeBord Sunday afternoon, March 20 at 2 o'clock at McIntyre Funeral Home at St. Paul. Rev. A. Clyde Ehret of North Loup officiated. Interment in the Elwood Cemetery. Pallbearers were: Eugene Zocholl, J. R. Southard, Leo Blaha, Alfred Stepanek, Alvin Dvorak and John Vincik. Mrs. Seth W. Oleson and Mrs. Ralph Zlomke sang "Nearer Still Nearer", "God Will Take Care" and "Good Night and Good Morning", accompanied by Mrs. Herbert Falk, pianist.
Walter Clifford DeBord, son of Lee and Edna DeBord was born at St. Paul, Nebraska July 4, 1914 and passed away on May 2, 1945. He went to the Methodist Sunday School and finished the 8th grade in the St. Paul school. He moved with his parents to Peru, Nebraska and entered high school. From there they moved to Aurora where he finished his schooling. After moving to Wolbach he went to Cheyenne, Wyoming and joined the regular army. He spent three years there, received his discharge and re-enlisted in Calif. for China. He was in Tiensin China when Japan took it over and our boys were sent home. He again re-enlisted and was in California when Pearl Harbor was attacked. He was sent to the Aleutean and the Marshall Islands and the island of Leyte in the Philippines. He was wounded on Leyte and sent to New Guinea where he was in the hospital three months. He was sent back to Leyte island then on to Okinawa, where he met death in action. Walter never cared so much about promotions in the army as he wanted to see the world.
He leaves to mourn his passing his mother, Mary Edna DeBord and sister Mary Averil Basham besides other relatives and a host of friends.
Walter's body was returned to St. Paul for burial in January 1949.