John J. Ditmars
August 5, 1917 - March 18, 2008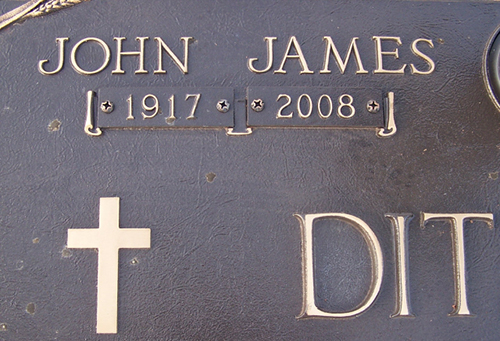 John James ''Jim'' Ditmars passed away March 18, 2008. He was born August 5, 1917, in Gotebo, Oklahoma, to William C. and Mary Rose Dit­mars. He attended school in Gotebo and attended Oklahoma A&M College where he was a member of Alpha Gamma Rho fraternity.
Following Pearl Harbor, he enlisted in the Army and received his basic train­ing at Fort Sill, Oklahoma. He attended officers candidate school and received a Second Lieutenant's Commission, and was assigned to the U.S. Pacific 1st Mule Pack Artillery Company in New Guinea. From there, he joined a newly formed 6th Ranger Battalion in the Philippines with the rank of Captain. Following his discharge after the end of the war, he returned to Oklahoma A&M and finished his degree in animal husbandry.
It was during his second tour at Oklahoma A&M when he met June Smith, who he married following their graduations in June 1948, in Tulsa, Oklahoma. He went to work at Oklahoma Farm Bureau and help organize the Farm Bureau in many Oklahoma counties. He later joined the Oklahoma Farm Bureau Insurance Company in which he served as vice president until his retirement in 1983.
Jim and his wife were members of Christ the King Catholic Church for 36 years
He is survived by his wife, June of the home daughter and soninlaw, Diane and John Culbertson of Ed­mond, Oklahoma a son and daughterinlaw, Dr. John J. Jr. and Cathy Ditmars of Oklahoma City a son and daughterinlaw, Richard C. and Barbara Ditmars of Boul­der, Colorado one beloved grand­son, John J. Ditmars, III three beloved stepgrandchildren, Ash­ley Culbertson Angelo, Edmond, and Blake and Adam Christensen, Oklahoma City his sisterinlaw, Sally Ditmars, Wimberly, TX and many, many much loved nieces and nephews and their families from all over the country.