Roy L. Frost
October 8, 1920 - September 16, 2006
Source: Muster Roll - December 19, 1944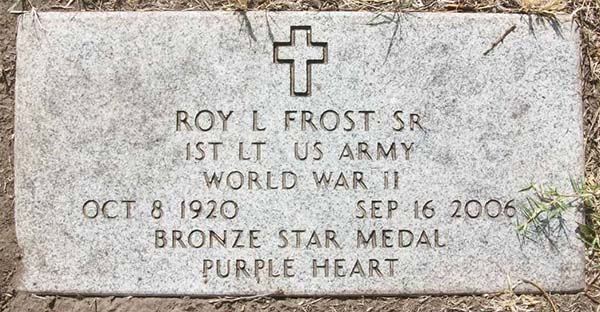 Roy was born Oct. 8, 1920, in Hutchinson, the son of Roy M. and Beulah F. Young Frost.
He attended Hutchinson High School, Hutchinson Community College and the University of Kansas. He was a longtime resident of Hutchinson, living in Bella Vista, Ark., from 1980 to 1994.
Following his military service, he was with Lehigh Portland Cement Co. for 17 years, and was then president of Hutchinson Ready Mix Co. In 1965, he joined the American Petroleum Institute as an associate director of the Kansas Petroleum Council in Topeka, working in public and governmental relations.
He belonged as a charter member of Trinity United Methodist Church, past commander of Lysle Rishel Post No. 68 American Legion, Chef de gere of Hutchinson 40 et 8 Masonic Lodge, Phi Kappa Psi Fraternity, past president of the Bella Vista Retired Officers Association, of which he was one of the founding members, member of the Veterans of Foreign Wars, Purple Heart Association and the Disabled American Veterans.
He enlisted in the U.S. Army at the beginning of World War II, commissioned in the Infantry as an Infantry Troop Leader. He was wounded on Leyte Island, Philippines, and retired from the U.S. Army in 1945. He received the Purple Heart, Bronze Star and the Combat Infantryman's Badge.
On Jan. 3, 1943, he married Betty Ann Scholes in Tucson, Ariz. She died Feb. 19, 2001.
Survivors include: a son, R.L. Jr. and wife, Jane, Pineville, Mo.; a daughter, Jane Horn and husband, Dale, Hutchinson; four grandchildren; Leigh Harders, Manhattan, Ian Taylor, Manhattan, Kevin Frost, Lawrence, and Ryan Frost, Wichita; three step-grandchildren, Mike Horn, Vail, Colo., Shannon Longino, Charlotte, N.C., and Julie Dean, Centerton, Ark.; and nine great-grandchildren.
He was preceded in death by twin daughters, Jeanne and Joanne Frost.