Marion J. Grandy
January 21, 1921 – January 23, 2010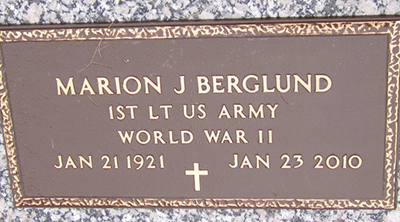 Bainbridge Island - Funeral services for Mrs. Marion Josephine (Grandy) Berglund, age 89, of Bainbridge Island, will be held at 2 p.m. February 6 at the Miller-Woodlawn Memorial Park, in Bremerton, WA. Mrs. Berglund passed away on Saturday, January 23rd in an Adult Family Home after a long illness. Services will be held at graveside, as she wished, with family members present.
She was born January 21 1921 to Lillian and Alvi Grandy of Seattle, (deceased) she attended Lincoln and Queen Anne High Schools where she was very active in sports. She studied pre-nursing at the University of Washington and graduated from the old Swedish Hospital School of Nursing as a Registered Nurse.
During WWII she served with the ANC 215th Hospital Ship Complement aboard the Hospital Ship USS Hope (AH-7). The ship participated in campaigns in the Bismarck Archipelago, Western Pacific, Luzon, Southern Philippines, New Guinea and the Rykyukus.
She was a member of the Catholic Church and a charter member of Military Women in Military Service for America, a Museum Associate and Invertebrate Fossils at the Thomas Burke Museum in Seattle.
Surviving is her husband Ross of Bainbridge Island, WA. Her three stepsons Steven and Daniel of Burien, WA. and Timothy of Silverdale; Three stepchildren, Jason (Debbie) of Deer Park, WA. Michelle, (Jon) Seattle, WA. and Jennene (Stephen) of Houston, TX; Eight step-great-grandchildren, and two step-nephews: Paul (Cheri) of Issaquah, and Kevin (Mai) of Spokane.
In lieu of flowers, a donation to the Women in Military Service for America Foundation is suggested, at Dept. 560 Washington, D.C. 2004-0560.