Lloyd Grisel
July 19, 1913 - June 28, 1982
Source: Muster Roll - December 19, 1944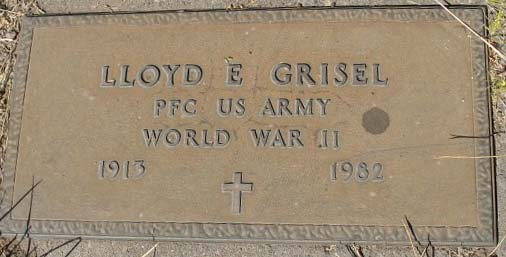 Lloyd Ellis Grisel, Plush, 68, died Thursday in lake District Hospital.
He was born in Lakeview to Willy Grisel and Iva Cleland Grisel.
He was married to Pauline Antone on March 25, 1945.
Mr. Grisel had been postmaster and owned and operated a store in Plush in northern Lake County since August 1949. He was a veteran of World War II, a member of the Elks, Eagles and Veterans of Foreign Wars.
He was preceded in death by one son, Gary, and a daughter, Tony Ann.
Survivors include his wife, Pauline of Plush; son Gordon of Lakeview; half-sister, Millie Armstrong, Pendleton; and half-brothers, Jerry Barry Jr. and Wayne Barry both of Lakeview.