Clifford L. Kienenberger
February 15, 1925 – March 28, 2007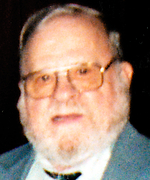 Clifford L. Kienenberger, 82, passed away in his home on March 28, 2007.
He was born to Ezra and Ella Kienenberger in Elliot, North Dakota, on February 15, 1925. He was united in marriage to Alma W. Nelson on October 10, 1948. He proudly served aboard the USS Hope during World War II.
A loving and devoted father, Clifford had a sense of adventure and a love of traveling. Clifford was preceded in death by his parents, brother Howard, and sister Mildred, all of North Dakota.
He is survived by his loving wife, Alma, of 58 years; and six children: son Barry and wife, Cathy, Marionville, Mo., son Dennis and wife, Kiki, Chicago, Ill., daughter Pamela Gloyne, Silva N.C., daughter Trudy and husband, Audey Lawrence, Henderson, Ky., daughter Cheryl and husband, Ernie Gregory, Sparks, Nev., and daughter Sheila, Springfield, Mo. He has 14 grandchildren and eight great-grandchildren. Also surviving are his siblings: brother Wayne and wife, Betty Kienenberger, Lisbon, N.D., brother Dean and wife, Grace Kienenberger, Brooklyn, Mich., and sister Phyliss Arnt, Enderlin, N.D.; along with several cousins, nieces and nephews. Burial will be in his family cemetery in Lisbon, North Dakota.