Harold R. Kimsey
March 30, 1920 - November 3, 2011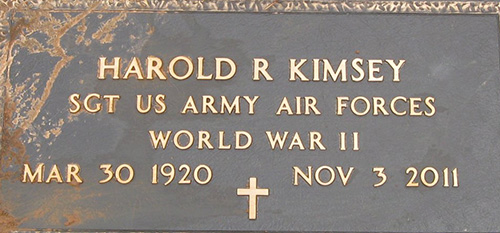 OAK RIDGE- Harold Raymond Kimsey, age 91, went to be with his Lord and Savior Jesus Christ on November 3, 2011.
His life was filled with service to God and country and devotion to his family. He always had a ready smile and an open hand to help others.
Harold was born on March 30, 1920, in Sautee, Georgia, to the late Silas Singleton and Mamie Shuler Kimsey, the fourth of eight children. He graduated from high school in High Point, NC and joined the US Army Air Forces just six days before the bombing of Pearl Harbor. He served valiantly in the Pacific during World War II as a part of the 501st squadron of the 345th Bomb Group / Air Apaches. On November 12th, 1944 he was quartered on a troop transport that was struck by a Kamikaze pilot. Seriously injured, Harold had to jump off the rear of the vessel to avoid the spreading fire.
After the War, Harold met Lula Aldridge, and they were married from September 15th, 1951 until her death on his birthday in 2008. Their son Ray was born in 1955. Harold worked as a dispatcher for J.P. Stevens Corporation and as a home builder with his brother Arnold.
He was an active member of Union Grove Baptist Church in Oak Ridge, NC, serving in many capacities and teaching Sunday School into his 90's. He was instrumental in the building of the Union Cross Hispanic Church.
In addition to his parents, he was preceded in death by his wife, Lula Aldridge Kimsey; sister, Vista Robertson; and three brothers, Talmer Kimsey, Arnold Kimsey, and Richard Kimsey.
Harold is survived by his son, Harold Raymond Kimsey, Jr. and daughter-in-law, Nancy Bell Kimsey of Cary; granddaughters, Erin Leigh Kimsey and Megan Hope Kimsey Barrett; sisters, Silene Baker of Moultrie, GA and Blanche Nicholson of Julian, and brother James Kimsey of High Point. Harold began almost every prayer with these words: "Lord, thank you for the blessings." His life was truly a blessing to all who had the privilege to know him.