Thomas J. LeBrun
February 17, 1922 - April 11, 2012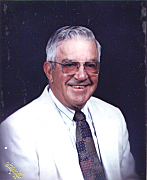 Thomas J. LeBrun, age 90 years, died Wednesday, April 11, 2012, at Brian's House following a brief illness. He was born February 17, 1922 in Bay City to the late Thomas R. and Emma (Guoan) LeBrun. Tom was the owner and former president of Brown and Son Roofing and Siding Co. He was a member of St. John the Evangelist Church, Knights of Columbus Council, 2740, and the B.P.O.E. #88. Tom served in the U.S. Navy during World War II. He was married to the former Della Petrvalsky in Texas on Nov. 15, 1942 and she died on June 19, 2009.
Surviving are Tom's two sons and two daughters; Thomas R. (Susan) LeBrun of Essexville, David (Darcee) LeBrun of Bay City, Diane Dishaw of Bay City, and Janet (Douglas) Cote of Marysville; seven grandsons, two granddaughters, five great grandchildren; daughter-in-law, Sharon LeBrun of Bay City and son-in-law, Dale Confer of Bridgeport. In addition to his wife and parents, he was preceded in death by a son, Daniel LeBrun, a daughter, Betty Confer, a brother, Joseph and a sister, Rita Hebert.
The LeBrun family would like to extend a thank you to Brian's House, McLaren Bay Region 6 East, Heart Physicians, and Tuscola Physicians for the care and compassion given to Tom.
He is interred in St. Patrick Mausoleum. Memorial contributions may be directed to St. John's Church.