Charles J. McGinn
February 19, 1920 - December 1, 2010
Source: Muster Roll - December 19, 1944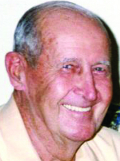 Charles J. McGinn,Jr., 90 U.S. Army Veteran of World War II Charles J. McGinn Jr., 90, died on December 1, 2010.
Born in Chester, PA. Mr. McGinn resided in North Wilmington over 20 years, previously residing in Chester, PA. He retired from Witco Chemical Plant in Chester, afterwards he worked as a security officer at Bowersox in Trainer, PA to the age of 80. A member of Church of the Holy Child, he was an avid Notre Dame fan where he attended games with his brother Butch.
Preceded in death by his parents Charles J. and Nellie (Mullaney) McGinn Sr.; 5 brothers John, James, Francis, Joseph and William McGinn Survivors: Niece and her husband Patricia and Wayne Friday of Linwood, PA; nephew William McGinn of FL; many great-nieces and nephews.