George W. Melott
July 17, 1920 - April 3, 2012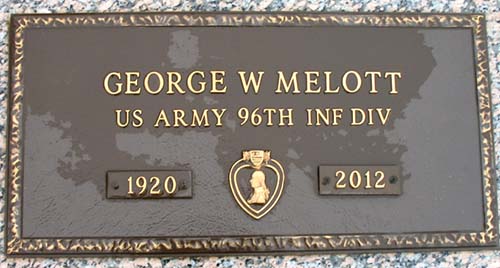 George was born July 17, 1920 in Pond Creek, OK to Virgil and Velma Hanon Melott and he passed away April 3, 2012 in St. Mary's Hospital.
George married Lucille A. Graham on October 6, 1942 at the First United Methodist Church of Pond Creek and she passed away September 26, 2011.
He was a member of the First United Methodist Church in Enid since 1949. George served in the 96th Infantry Army serving during WW II and receiving the Purple Heart and Bronze Star.
He worked at George E. Failing Company as a manger and retired after 38 years. He was a member of American Legion, VFW, and DAV. He was past president of the Men's Garden Club of Enid.
Survivors include three sons, Larry Melott and his wife Patty, Jerry Melott and Dale Melott all of Enid, six grandchildren and 11 great grandchildren, one sister Anita Anderson of Wichita, Kansas, and several nieces and nephews. He was preceded in death by his parents, two brothers, and one sister.