Howard F. Mozley
July 25, 1926 – January 23, 2006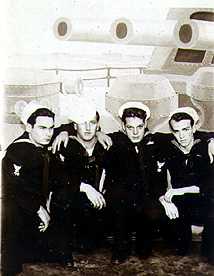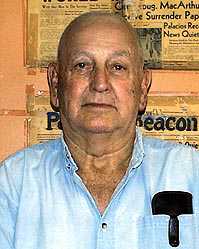 Howard Fremont Mozley was a 15-year-old student in Blessing High School when the Japs pulled their Dec. 7, 1941 sneak attack on Pearl Harbor. Less than three years later he enlisted in the U. S. Navy.
Howard was born in Foss, Okla., on July 25, 1926 to Earl F. and Lola Mozley. He came to the Blessing area with his farming parents as a young lad.
Following his joining the Navy on March 15, 1944 as an Able Seaman and the ensuing training, Howard was assigned to the Asiatic-Pacific area aboard the hospital ship, USS Hope.
Although a Navy vessel, the Hope was involved in an Army operation of transporting wounded and sick patients from the battlefield to hospitals.
In 18 months of sea duty aboard the Hope, Mozley participated in the battle of Okinawa and the Philippine Liberation. Along the way, he earned rating promotions to Seaman Second Class and Second First Class, then on Dec. 18, 1945, was promoted to Coxswain.
He remained in service after the war ended until May 23, 1946 when, after two years, two months and nine days in the Navy, he received his discharge at Camp Wallace, Texas.
Among the awards he earned were for the American Area Campaign, Asiatic-Pacific Area, Philippine Liberation and World War II Victory.
Among his proud "mementos" from his World War II service is the "thank you" he and other civilians who had responded to the nation's call received from President Truman.
The thank you says: "To you who answered the call of your country and served in the Armed Forces to bring about the total defeat of the enemy, I extend the heartfelt thanks of a grateful Nation. As one of the Nation's finest, you undertook the most severe task one can be called upon to perform. Because you demonstrated the fortitude, resourcefulness and calm judgment necessary to carry out that task, we now look to you for leadership and example in further exalting our country in peace. (signed) Harry Truman."
Returning home, Mozley married Gail Johnson of Palacios on Dec. 9, 1949. Two children followed, Howard F. Mozley, Jr., now a Matagorda County deputy sheriff; and daughter, Teri Lee (Mrs. Donald) Kelly, of Palacios. There are also five grandchildren.