Hugh F. Muir
September 29, 1923 - October 9, 2015
Source: Muster Roll - December 19, 1944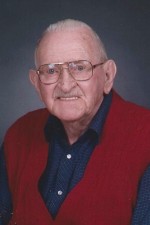 Hugh F. Muir, "Scotty," passed away at home surrounded by family on October 9, 2015. Scotty was born in Punxsutawney, PA on September 29, 1923, the only child of Andrew and Jane (Fleming) Muir. He served in World War II starting with basic training in Alabama. He fought in the Pacific Theater until he was wounded in Leyete and earned a Purple Heart. He went on to have a career with the railroad retiring after 30 years as Train Master.
He married Jonelle North in 1946 and they spent 53 happy years together. Through the years, Scotty and Jonelle remained close friends with his army buddy and wife, Donald and Loretta Austin. After the passing of Jonelle and Donald, Scotty and Loretta's friendship grew and they were married on September 29, 2000. Scotty and Loretta spent their early married years traveling to Salamanca, NY and then permanently settling in Montfort, WI. Scotty was a railroad man through and through. He loved watching trains and collecting all kinds of train memorabilia. He also really loved his little dogs, Tippie and Taffy.
Scotty is survived by his wife Loretta, and her children; Larry Austin (Betty Von Glahn), Diana (Dave) Kuhls, Lily (Kerry) Long, Don Jr. (Kathy) Austin. In addition he is survived by 14 grandchildren and 19 great grandchildren. A special thanks to his caregiver for the last two years, Phyllis Spillane.