Clarence M. Owens
August 13, 1917 - October 11, 2012
Source: Muster Roll - December 19, 1944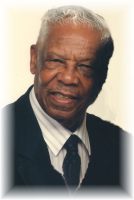 Clarence Marshall Lynell Owens was born May 23, 1918 in Shellmound, MS, to James Columbus Owens and Fannie Lee Owens. Clarence was the third of four sons. He was preceded in death by his wife, Lucille Owens, one son Christopher Owens, his parents, three brothers, James C. Owens, Jr, Willie Owens and Percy Lee Owens, Sr.
Clarence was educated in the State of Mississippi and was later drafted into the U.S. Army, where he served four years in the Philippines (WWII). Clarence met the love of his life Lucille Brown during boarding school years and later married in May of 1943. They were married for seventy years. In the military Clarence was a barber and he later received his diploma in Brick Masonry. Later he was employed as a Welder by the Kansas City Terminal Railroad for 33 years.
Clarence accepted Christ at an early age. He became a member of Metropolitan Baptist Church in 1947, where he continued to be a strong and faithful member in his church, until his health declined. Clarence served as a Deacon, Superintendant of Sunday School, Male Chorus member, Sunday School Teacher and Custodian. Clarence loved God and his family. He enjoyed visiting the sick and helping the homeless in the Community.
On January 8, 2014 Clarence was called home to rest. He leaves to cherish his memory; his children, Myrtle Smith, Cynthia Smith both of New York, Stephen Owens (Ernestine) of KCKS, Stephanie Owens of KCKS, Connie & Bonnie Owens both of Merced, CA, Marshall Owens (Angela) of Wichita, KS; and a host of grandchildren; great grandchildren; great-great grandchildren; nephews; nieces; cousins; other relatives and friends. Clarence will be missed greatly. We all love you, thanks for caring and sharing your life. Funeral service were held Tuesday, January 21, 2014 11 A.M. at Metropolitan Baptist Temple. Visitation: 9-11 at the church. Interment: Leavenworth National Cemetery Leavenworth, KS