Elmer Raanes
The USS Hope's First Official Patient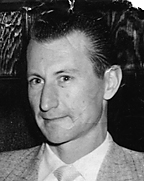 Elmer "Al" Rudolph Raanes passed peacefully on Sept. 17, 2014, at his home, surrounded by his loving family at the age of 87. He will be forever in our hearts.
Al was born to Christian and Ruth (Zastrow) Raanes on July 6, 1927, in San Francisco, Calif. As a child he grew up in San Francisco with his family during the Depression era. As a teenager he attended Balboa High School but did not finish his schooling due to World War II starting. He felt it was his duty to fight for his country and join a U.S. service. Because of his young age of 16, the only service department he could join was the Merchant Marines. During World War II he fought for the U.S. cause as a Merchant Marine Shipmate on merchant Liberty Ships that helped in the Pacific campaign and other seas and oceans campaigns throughout the world. During his service he sustained injuries that gave him the honor of being the first official patient aboard the U.S.S. Hospital Ship Hope in 1944. It took him one year to recuperate.
After the war ended, Al still served as a Merchant Marine Shipmate and even sailed in the Atlantic ocean during the Korean war. Until the day he died, he fought for the benefits that the Merchant Marine Shipmates deserved; still at this time they have not received their monetary compensation for their efforts in the wars. Because of this, he was truly involved in these endeavors for the Merchant Marines. He was a very patriotic man who believed in his country — "USA, all the way!"
During his life, Al achieved the honor of becoming a Master Appliance Technician. In the beginning he worked for some major appliance companies before wanting to be his own boss with his own shop. His shop, AL-KITS Appliance in Union City, Calif., was his life. He worked tirelessly for more than 25 years until his semi-retirement. Al and his wife Sally moved to Placerville, Calif., in 2001.