Jimmie H. Raben
March 10, 1920 - June 27, 2012
Source: Muster Roll - December 19, 1944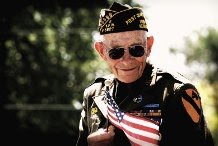 Funeral services for Jim Raben of Crawford, Nebraska will be on Monday, July 2, 2012 at 2:00 pm at the Crawford Community Building in Crawford with Pastor Bill Bagley officiating. Visitation hours will be July 1, 2012 at Chamberlain Chapel in Crawford from 5-7pm.
Jim H Raben, 92, died Wednesday, June 27, 2012 at Chadron Community Hospital in Chadron, Nebraska.
Jim was born March 10, 1920 in Crawford to Peter & Hannah (Lauritzen) Raben. He attended Crawford High School. After graduating he worked on the family ranch until he went to serve his country in WWII in the South Pacific. After the war he returned to his home place north of Crawford to continue running the ranch. In 1951, he married the love of his life, Veda Scholz and to this union 4 children were born.
Jim was very involved in his church, 4-H, the Gideons, & was a faithful worker in the VFW. He enjoyed playing horseshoe, fishing, and spending time with his grandchildren.
He is survived by his wife Veda, daughter Alice (Paul) of Ashby, daughter Vicki (Bruce) of Marsland. Son, Fred (Julie) of American Falls, Idaho & Gregg (Cathy) of Crawford, 13 grandchildren & 15 great grandchildren.
Preceding him in his death were his parents, brothers Jennings, Elmer, Lorentz, Arnold, John & Sisters, Catherine and Elizabeth.