Luther B. Smith
October 6, 1922 – October 17, 2007j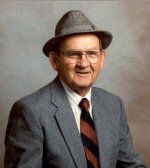 Funeral services for Luther Bryan Smith were held at 10:30 A.M. on Saturday, October 20th, 2007 in the Hart Funeral Home Chapel, with Mr. Dean Bridges officiating. Interment followed services at Tahlequah City Cemetery. Services were entrusted to Hart Funeral Home.
Luther Bryan Smith was born in Lula, OK, on October 6th, 1922, the son of Horace Smith and Sarah Jane (Leslie) Smith. After graduating from high school, Luther served his country as a member of the U.S. Army during WWII. He settled in Tahlequah after the war, and was co-owner of Smith Brothers Floor Coverings with his brother Elmo.
In the 1960′s, Luther expanded and opened Smith Brothers Furniture, a fixture in the Tahlequah business community for many years. He was a member of Lyons Club International, and was a supportive and active member of the Tahlequah community.
Luther was a golfing, fishing and hunting enthusiast. The Santa Monica Pier was one of his favorite places in the world. He loved to help other people, and was well known for his friendly smile and giving spirit. Luther passed from this life in Tulsa, OK, on Wednesday, October 17th, 2007.
He will be deeply missed by all who knew and loved him. Luther was preceded in death by his parents; by his brothers, Frank, Carl, Harry and Earl Smith Sr.; and by his sisters, Bessie Nichols, Jessie Angell and Beulah Stanfield. Keeping Luther alive in their memories are his survivors: his son, George Randall Smith and wife Kathy of Henryetta, OK; his daughters, Deborah Ann Parmele of Tulsa, OK and Diane Musgrove and husband Bobby of Park Hill, OK; his sister, Eula Drake of Huntington Beach, CA; his seven grandchildren, Maggie Ann Smith of Albuquerque, NM, John Smith and wife Crystal of McAlester, OK, Darren Robert Parmele and Robert Bryan Parmele, both of Tulsa, OK, Mindy Latty and husband Jerry Don of Park Hill, OK, Debbie Kay Murphy of Tahlequah, and Bobby Wayne Musgrove, Jr. and wife Bobbi Allison of Park Hill; his five great-grandchildren, Cade Smith of McAlester, Jerry Wayne Latty, Justin Latty, and Jake Latty, all of Park Hill, and Maggie Murphy of Tahlequah; and many family members, friends and loved ones. Luther's family would like to extend a special "thank you" to Luther's good friend and neighbor, Tony Leone, for all his acts of kindness.
| | |
| --- | --- |
| Army Serial Number | 39291546 |
| County & State of Residence | Los Angeles, California |
| Place of Enlistment | Los Angeles, CA |
| Date of Enlistment | 03/29/43 |
| Grade | PVT – Private |
| Source of Army Personnel | Civilian Life |
| Nativity | Oklahoma |
| Year of Birth | 1922 |
| Education | 4 Years of High School |
| Civilian Occupation | Retail Manager |
| Marital Status | Single with dependents |
| Component of the Army | Selectees (Enlisted Men) |
| Box Number | 1417 |
| Film Reel Number | 6.183 |