Fred D. Werts
June 29, 1922 - January 20, 2015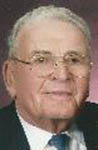 Fred D. Werts, 92, of Sidney passed away at 10:38 p.m. Tuesday (Jan. 20, 2015) at Prairie Winds of Urbana assisted living.
Fred was born June 29, 1922, in Condit Township in Champaign County, the son of J. Howard (1900-1988) and Lois G. (Simer) Werts (1901-1991). He graduated from Urbana High School in 1941 and was captain of the Tigers football team the year it won the Big 12 championship. He served in World War II and was awarded a Purple Heart for being wounded in the invasion of the Philippines.
He married Gloria Faye Marshky on June 12, 1943, in Champaign. She preceded him in death on Nov. 15, 2000. They lived in Sidney where they operated a Phillips 66 bulk plant and service station for 50 years. Fred and Gloria were members of Countryside Methodist Church.
At the age of 84, he married Doris Jean (Burt) Schwartz on Feb. 11, 2006, at the Sidney Christian Church. Fred and Doris lived in Sidney and then moved to Prairie Winds of Urbana assisted living. The families of Fred and Doris would like to thank the staff at Prairie Winds for all the wonderful care given to Fred and Doris.
Fred was a member of the school board that formed what is now known as Unit 7 schools and was treasurer during the construction of the first Unity High School. He owned and drove several Unit 7 school buses.
His biggest passion was selling bushels of corn by promoting the use of ethanol and its by-products. Some might remember his 1965 Ford Falcon or the 830 Case tractor with their signs announcing that they ran on 100 percent corn alcohol produced by American farmers. Fred went around the Midwest driving his vehicles in parades and exhibiting them at the Illinois State Fair, Farm Progress Shows and several county fairs. He was a lifelong member of the Illinois Farm Bureau and served as state coordinator for the American Agriculture Movement of Illinois. Fred was an active member of the Illinois Corn Growers and moved on to the National Corn Growers Association, always working in the corn market development committees that reviewed corn-based research that could be advanced with contributions from the corn check-off program. He was awarded the 1987 Farm Leader of the Year.
Fred was preceded in death by his parents; one sister, Marilyn A. Magsamen Hall; and one grandson, Kai Frederick Jensen. Survivors include his brother, Howard Paul Werts of Clinton; daughters, Linda Lee Jensen of Guernsey, Wyo., and Carla Faye Werts of rural Urbana; three grandchildren, Jennifer Jensen (Marty) Kirkham of Conifer, Colo., Bradley Harden (Melissa) of St. Joseph and J. Wesley Harden of Phoenix, Ariz.; and three great-grandchildren, Madison, Makayla and Macey Harden of St. Joseph.