Charles A. Zambas
January 5, 1922 – September 22, 2011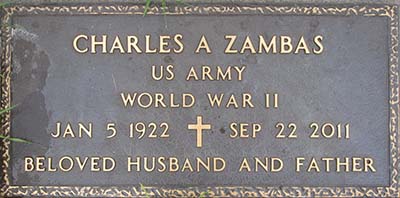 Charles A. Zambas, 89, of Rio Rancho, NM, formerly of Stuart, died September 22, 2011 in Rio Rancho. He was born on the Island of Cypress, and had been a resident of Stuart for 20years, before moving to Rio Rancho. He was a veteran of the U.S. Army, having served during WWII. He had been an owner of a hair salon before retirement. He was Greek Orthodox.
He is survived by his son, two daughters; his brother, George; 7 grandchildren and 9 great grandchildren. He was preceded in death by his wife, Tessie Zambas in 2001.
He is interred at Forest Hills Memorial Park, Palm City.
r