Francis Bram
November 30, 1911 - February 7, 2011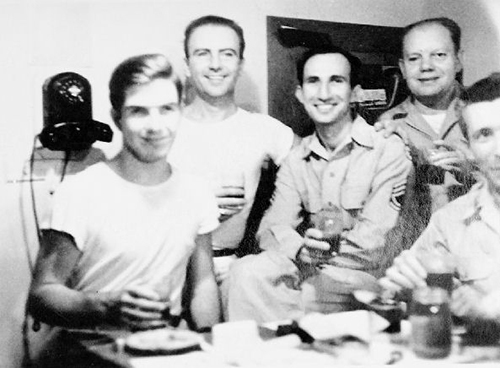 Francis "Frank" Bram died peacefully at his home in his sleep on February 7, 2011.
Born in Newton, MA, he worked as a pharmacist in Boston before serving in WWII.
Stationed aboard the U.S.S. Hope as a pharmacist, his care for the wounded during the war was remembered by many. As one of the few remaining members of that crew which served with such distinction, he will be missed at their yearly reunion.
After leaving the service, Frank was a pharmacist in Los Angeles for more than thirty years.
His beloved wife of more than forty years, Faye, predeceased him in 1994.
Frank was the beloved father of son David (Phylissa) and daughter Robin.
"Uncle Frank" was treasured by generations of nieces, nephews, cousins, friends, and neighbors for his integrity, positive attitude, kindness, and ever expanding repertoire of jokes.
Frank took his religious responsibilities as seriously as his roles as a pharmacist, husband, father, and patriarch to his extended family. Frank was a member of Adat Shalom Synagogue.
Interrment at Eden Memorial Park, 11500 Sepulveda Boulevard, Mission Hills.
| | |
| --- | --- |
| Army Serial Number | 31242463 |
| County & State of Residence | Suffolk, Massachusetts |
| Place of Enlistment | Boston, Massachusetts |
| Date of Enlistment | 12/31/42 |
| Grade | PVT – Private |
| Source of Army Personnel | Civilian Life |
| Nativity | Massachusetts |
| Year of Birth | 1911 |
| Education | 3 Years of College |
| Civilian Occupation | Retail managers |
| Marital Status | Single without dependents |
| Component of the Army | Selectees (Enlisted Men) |
| Box Number | 0414 |
| Film Reel Number | 3.136 |